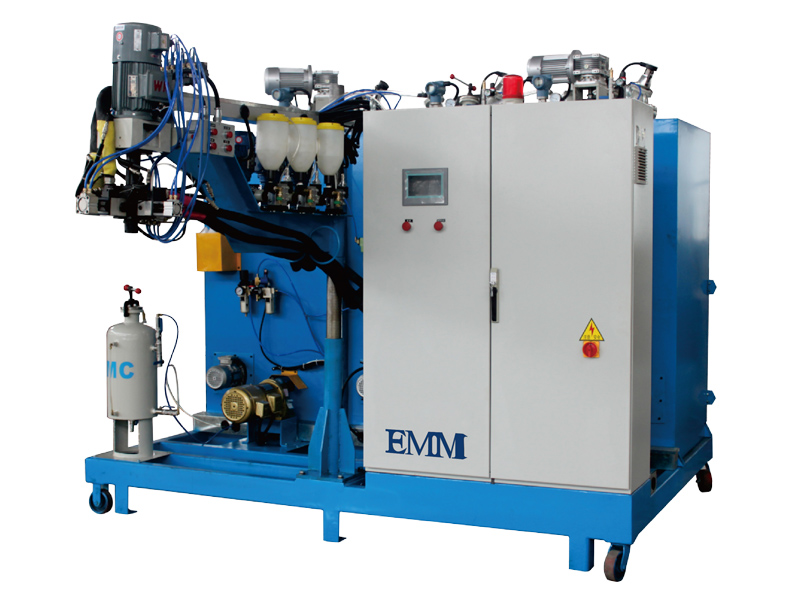 Bikaranînî:
---
For the production of MDI type middle and low temperature elastomer items, such as shoe, wheel, dumbbell, suitcase wheel, gel and so on.
Amûrên Amûr
---
Germahiya bilind ya berxwedanê ya herî kêm a bileziya pîvana pîvandinê, pîvana rastîn, çewtiyê ya random ± ± 0.5%;
Material output adjusted by frequency converter with frequency conversion motor, high pressure and precision, simple and rapid ratio control.
High performance mix device, accurate material output synchronization, even mix; New type mechanical seal structure avoids reflux problem.
High-efficiency vacuum device with special mixing head ensures no bubble in products.
Metering pump and material pipe equipped with heating device, automatic constant temperature adjusting, efficient and energy saving; Multi-point temp. control system ensures stable temperature, random error <±2℃.
Adopting plc and touch screen man-machine interface to control casting, automatic cleaning and air purge, stable performance, high operability, which can automatically distinguish, diagnose and alarm abnormal situation as well as display abnormal factor;
Quick Details
---
Pêvajoya Pêvandinê
Navê Pel: EMM
Voltage: 380V / 50HZ, 380V 50Hz
Power(W):30kw
Dimension(L*W*H):L2450 X W2200 X H2350mm
Weight: 2500kg
Certification: CE
Peymana: 1 Sal
Piştî xizmetkarê piştî-firotanê: Endezyarên ku ji xizmeta xizmetê xizmeta derve ve
Raw material:prepolymer, moca
Process type:cpu casting machine
Quality warranty:12 months
Power:12-30kw
Certificate:CE ISO
output:1.8-50kg/min
mixing ratio:100:50-150
Parêzerên Teknîkî:
---
Bikaranînî

casting PU ealstomer
Karûabr
1.8-7.2kg/min; 3.6-18kg/min; 7.2-31kg/min; 15-50kg/min

Material bucket volume

30L-500L
Erk
15-35KW
Zextên însanî
0.01-0.1Mpa
Demjimara Încîl
0.5 ~ 99.99S ​​(rastîn ya 0.01S)
Serê çêdike
Hêza 6000rpm, zorê dînamîk dînamîk zorê
Hewceyê hewayî
Dry, oil free P:0.6-0.8MPa

Q: 600L / min

Pumpoya vacuum
2X-8;2X-15

speed of exhaust: 8L/S;15L/S

Hêza desthilatê
Peyvên sê pênc, 380V 50HZ
Pergala kontrola navendî
25~35KW
Reng (hilbijêre)
White / Blue / Red
Pîvan

1500kg